Junior Cycle
Junior Cycle Subjects
Core Subjects are those that all students take in Coláiste Nano Nagle.
All First Year students in 2020 will study the following subjects:
CSPE
SPHE
Religion
Physical Education - Short Course (New)
Information Technology - Microsoft 365 (New)
Irish
English
Maths
History
Geography
Science
Non Core Subjects are the subjects that students choose at Coláiste Nano Nagle.

Note: Digital Media Learning is new to the First Year Curriculum in 2020. It is a short course and will be offered to students who are not taking a Modern Foreign Language.
Junior Cycle Key Skills
Key skills help learners develop the knowledge, skills and attitudes to face the many challenges in today's world. They also support students in learning how to learn and to take responsibility for their own learning. These Key Skills are found throughout the planning of each subject.

Junior Cycle Statements of Learning
The Framework contains 24 statements of learning, underpinned by the eight principles, provide the basis for schools to plan for, design and evaluate their junior cycle programmes. That process of planning focuses on the combination of curriculum components (subjects, PLU's, and short courses) and other learning experiences. Schools will ensure that all statements of learning, alongside the key skills feature in the programmes of all junior cycle students.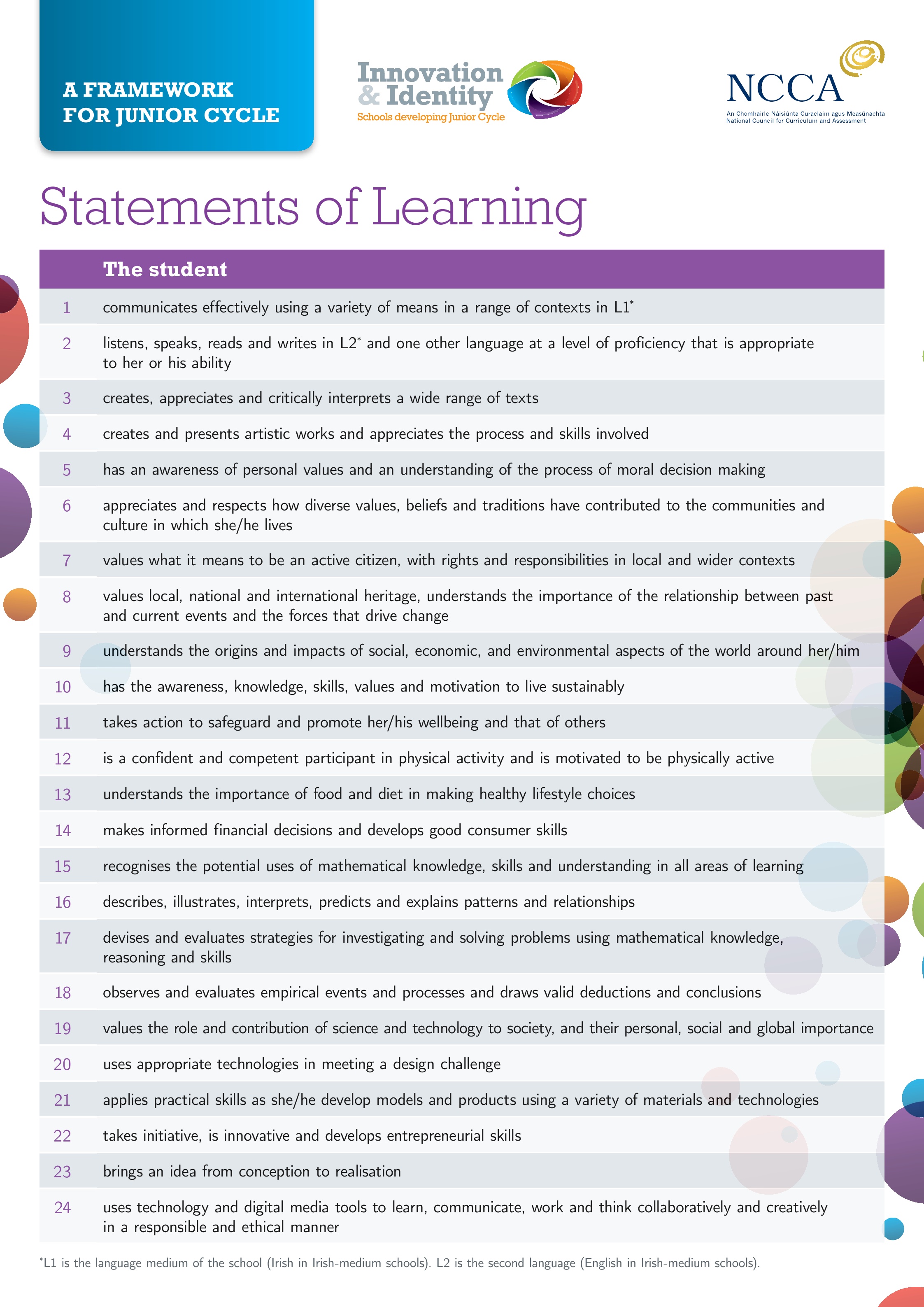 Phasing in of Junior Cycle Subjects
The new curriculum and assessment arrangements for junior cycle will be phased in to accommodate the development of new specifications for subjects. English was first introduced to first years in 2014-15. It was first certified in 2017. Phase 5, the final phase will be for certification in 2022.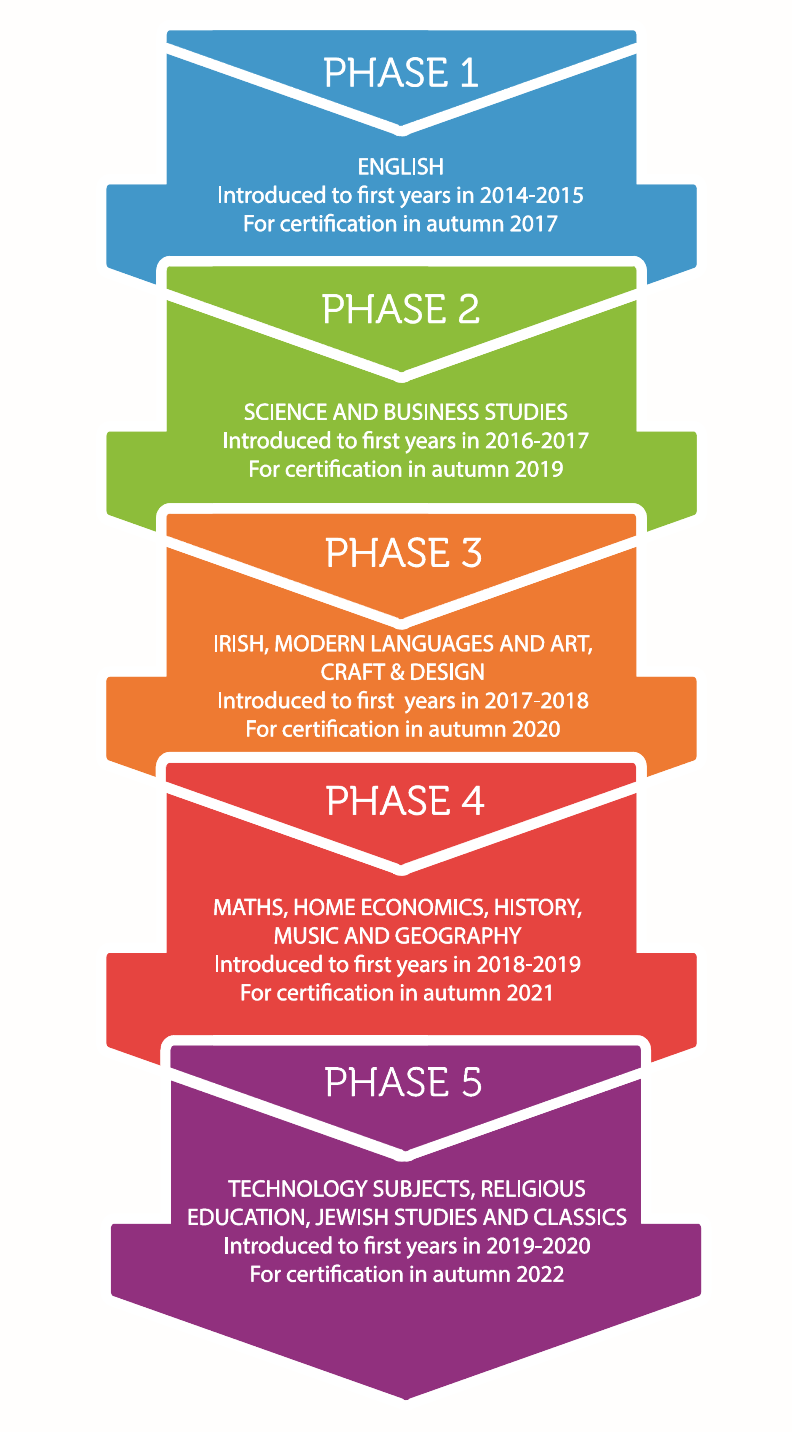 Classroom Based Assessment

Classroom Based Assessments (CBAs) are mostly completed by students in the second term of second year (CBA 1) and in the first term in third year (CBA 2). Each subject has their own particular CBAs which can be found in the subject Specification. The CBA provides a 'snapshot' of the student at the time of completion which is set by the NCCA. The CBA results is awarded by the relevant subject department in school. Teachers meet in a Subject Learning and Assessment Review meeting (SLAR) where student's CBAs are discussed and a Descriptor awarded. Teachers follow the Features of Quality which are set by the NCCA.
Students are awarded one of the following Descriptors:
• Exceptional
• Above expectations
• In line with expectations
• Yet to meet expectations.
Assessment Task

Assessment Tasks (AT) are completed by students in the first term of Third Year after CBA2. The AT is completed in a booklet which is given by the State Examinations Commission (SEC). The booklet is corrected by the SEC as part of the exam at the end of Third Year.
Junior Cycle Examinations

At the end of 3rd year, students sit their Junior Cycle Examinations. The timetable and correction of the exam is set by the SEC.
Junior Cycle Profile of Achievement (JCPA)

The JCPA outlines the achievement of students over the course of his three years. The Descriptor (result) from the final examination, CBA Descriptors and OALs are recorded on the JCPA. This is presented to students in 4th Year.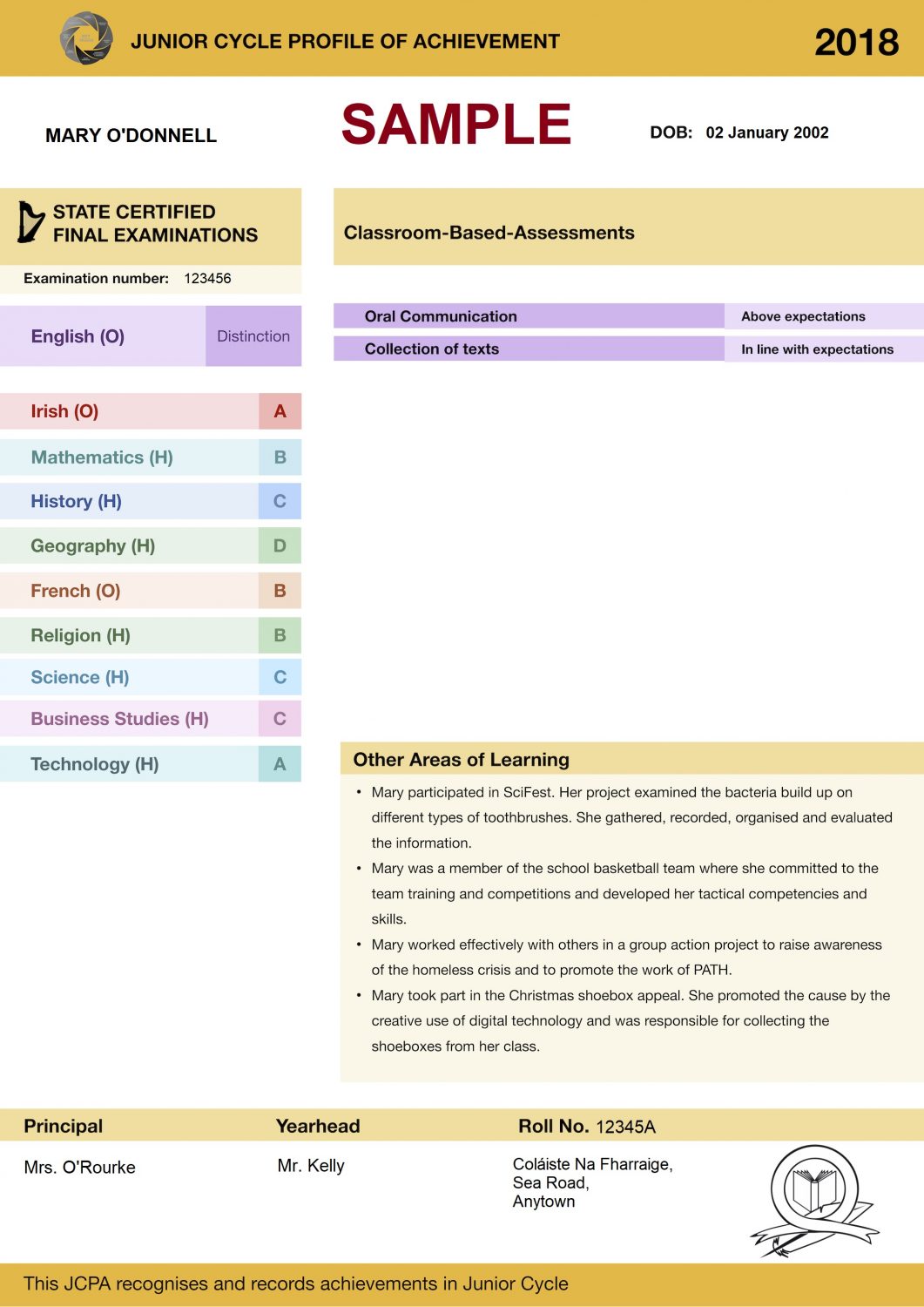 Junior Cert and Junior Cycle Grades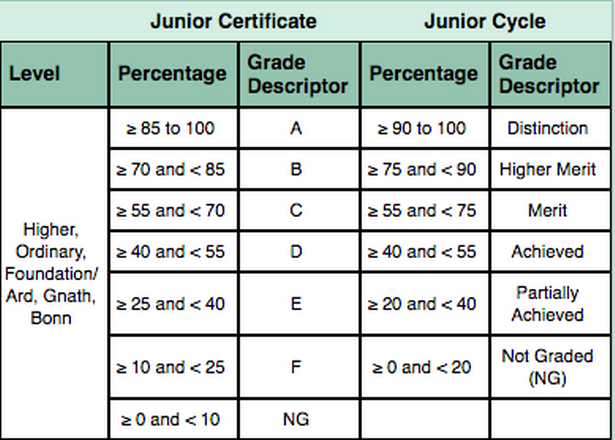 Other Areas of Learning
An OAL is SCHOOL RELATED – it is learning that happened while students were at school OR while they represented the school. Students can keep a log of these in their school Journal
For example:
Awards won for sports/cultural achievements
Active participation in a sports team
Member of Student Council
Entered a competition – e.g. BT Young Scientist, Scifest, John Paul II Awards etc.
Taking part in a charity fundraising event in school e.g. Amber Flag fundraiser
Performed in front of classmates/school mates
Helped out at a Parents' Evening
Being part of a school club e.g. Green's Schools
Helped out at a school mass
The achievement must have been school based and must also be linked to the key skill that students learned or developed whilst completing the activity.
Junior Certificate Schools Programme
Coláiste Nano Nagle also offers the Junior Cycle School Programme (JCSP). The Junior Certificate School Programme (JCSP) is a national programme under the auspices of the Professional Development Service for Teachers (PDST). Currently, the programme is offered in 224 schools throughout the country. JCSP operates within the Junior Certificate/ Cycle curriculum. It follows the curriculum framework set out for the Junior Certificate/Cycle, which is re-focused to cater for JCSP students.
It is an intervention into the Junior Certificate/Cycle and not an alternative to it. It helps to make the curriculum accessible and relevant to young people who would benefit from a different approach to the Junior Certificate/Cycle.
The JCSP approach involves:
analysing students' strengths and weaknesses and taking note of any specific recurring difficulties.
planning programmes of work which both build on students' abilities and address the main obstacles which hinder their progress.
engaging in dialogue with young people and their parents regarding their needs and their progress in school
The content of the courses which JCSP students follow emphasise skills, knowledge and concepts selected from Junior Certificate/ Cycle subject syllabi and subject specifications which best explore the aptitudes and abilities of these young peoples' key skills, knowledge and concepts which are essential for students' progress in all areas of the curriculum.
The Programme is designed to ensure that these young people can benefit from their time in school and enjoy the experience of improvement and success. It does this by providing a curriculum framework which will assist schools and individual teachers in adopting a student-centred approach to education and in providing students with a programme to meet their individual needs.
Aims of JCSP
The Junior Certificate School Programme attempts to help young people experience success and develop a positive self-image by providing a curriculum and assessment framework suitable to their needs. The programme aims to ensure that students actively participate in their learning, make progress and build on their achievements. The programme also aims to develop students' literacy, numeracy, communication and group work skills. On completion of the programme, students receive a profile which is an official record of their achievements from the Department of Education and Skills.
Click here to read more information on the JCSP programme.
Useful Websites
https://ncca.ie/en/junior-cycle
https://www.curriculumonline.ie/Junior-cycle/
http://www.jct.ie/home/home.php
https://www.education.ie/en/Schools-Colleges/Information/Curriculum-and-Syllabus/Junior-Cycle-/